One of the most common complaints I hear from people who tried eating Vegan, or are new to it… is 'I don't know what to eat'. And actually, I get it. Eating Vegan is not easy in the beginning. There is a retraining of your brain that is necessary. But it does get easier. To help you out, I am creating a series of Easy Eating Vegan food posts.
This will be the first in a series of dishes that can become your go to for lunch or dinner. They are all easy to make and versatile. I am going to include at least one recipe per post from my meal kit delivery service. The recipe will teach you how to actually make the dish. From there, you can make it your own. This is not an ad for my meal kit service (Purple Carrot), but theirs are the main recipes I have been making and I wanted to include recipes that I actually love.
Quesadilla
Let's begin with the quesadilla. I've always loved eating quesadillas, but I never even thought about making them. It just seemed too complicated. And I could not really wrap my brain around what a quesadilla would taste like without all the dairy cheese, meat/seafood, or sour cream. But I quickly learned I was all wrong once I made my first Vegan quesadilla. It was broccoli, black beans, Vegan cheese and some delicious sauce. And the best part is that it was easier than it looked and I immediately realized this could be a quick, go to dish at any time.
Tortilla
First let's talk about the tortilla. It's Vegan. You can buy it in the store or make it yourself. I usually buy mine from the grocery store, because of time. I think the flour tortilla is a better choice than the corn for this dish. If you are gluten free, there are gluten free options on the market (Mission). You want to go with the larger size tortilla, usually 9 or 10 inches across, because it is easier to stuff and fold.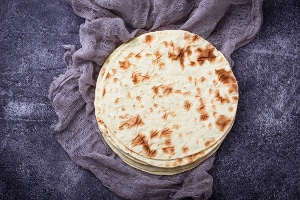 The Insides
I recommend combining ingredients you love. For beginners, I suggest starting with one vegetable, a bean (protein) and a Vegan cheese. Because you want the quesadilla to be flat, cook the beans to your liking then smash them and then spread them on the tortilla. Cook the vegetable to your liking and add that. Then sprinkle with Vegan cheese and cook. You can use any veggie you like… broccoli, cauliflower, spinach, kale, etc. And it does not always have to be Mexican flavored. I've never tried it, but I think a black eyed pea, collards and sweet potato quesadilla could be delish.
Cooking
Make sure you put the ingredients on half of the tortilla so it is easy to fold. USE A LARGE SKILLET. You don't want the quesadilla to be hanging out of the pan. Make sure the pan is hot before you add the quesadilla, but then adjust the heat down to medium hot so that it does not cook too fast. You can use oil, Vegan butter or no oil at all. If you do use oil or butter, just use enough to base the pan. This is not a deep fry situation. Once you drop in the quesadilla, keep an eye on it so it does not burn before you flip. I use a spatula to flip it. Flippin' ain't easy, so take your time. And remember most of the ingredients inside are already cooked, so you are really just melting the cheese and making the tortilla crispy.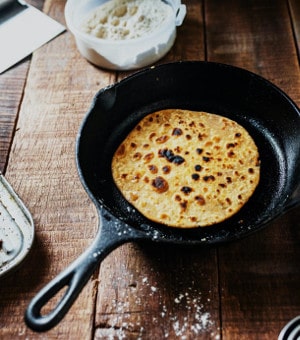 Pro tips:
*In addition or instead of beans, adding a spread like Vegan cream cheese or guacamole to the inside of the quesadilla before you cook it can really enhance the flavor.
*You can skip the cheese if you like
Recipe:
I recently made this quesadilla recipe from Purple Carrot and loved it! I did add some extra cheese, broccoli and ground vegan meat crumbles that I had in the fridge, just because. That is the beauty of the quesadilla. It is really easy to make and easy to make your own.
Be sure to keep an eye out for more Easy Vegan Eating posts from my kitchen. And please leave a comment and let me know if it is helpful.