My guest this week, Tracye Mcquirter, has been eating vegan since her college days. Thirty years later the author and public health nutritionist is a leading expert on eating a healthy plant based diet. And in her new book, Ageless Vegan: The Secret To Living A long and Healthy Plant Based Life, she takes it to the next level, telling us how eating Vegan can help us live and age better… if we do it right.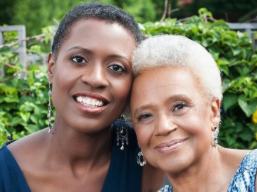 Tracye shares details about her mother, and co author, Mary McQuirter. Her mom decided to join her daughter on her Vegan Journey all those years ago. And now at 84, Mary exercises regularly and has not had any major health issues.
Tracye also gets candid about her health in her 50s. She gives Veganism credit for her pain and disease free life. She hopes to help others, especially Black women, realize the benefits of a Vegan diet. She hopes to get 10,000 Black women to sign up for a special program that will guide participants on a group vegan journey.
You can hear my entire interview with Tracye here: