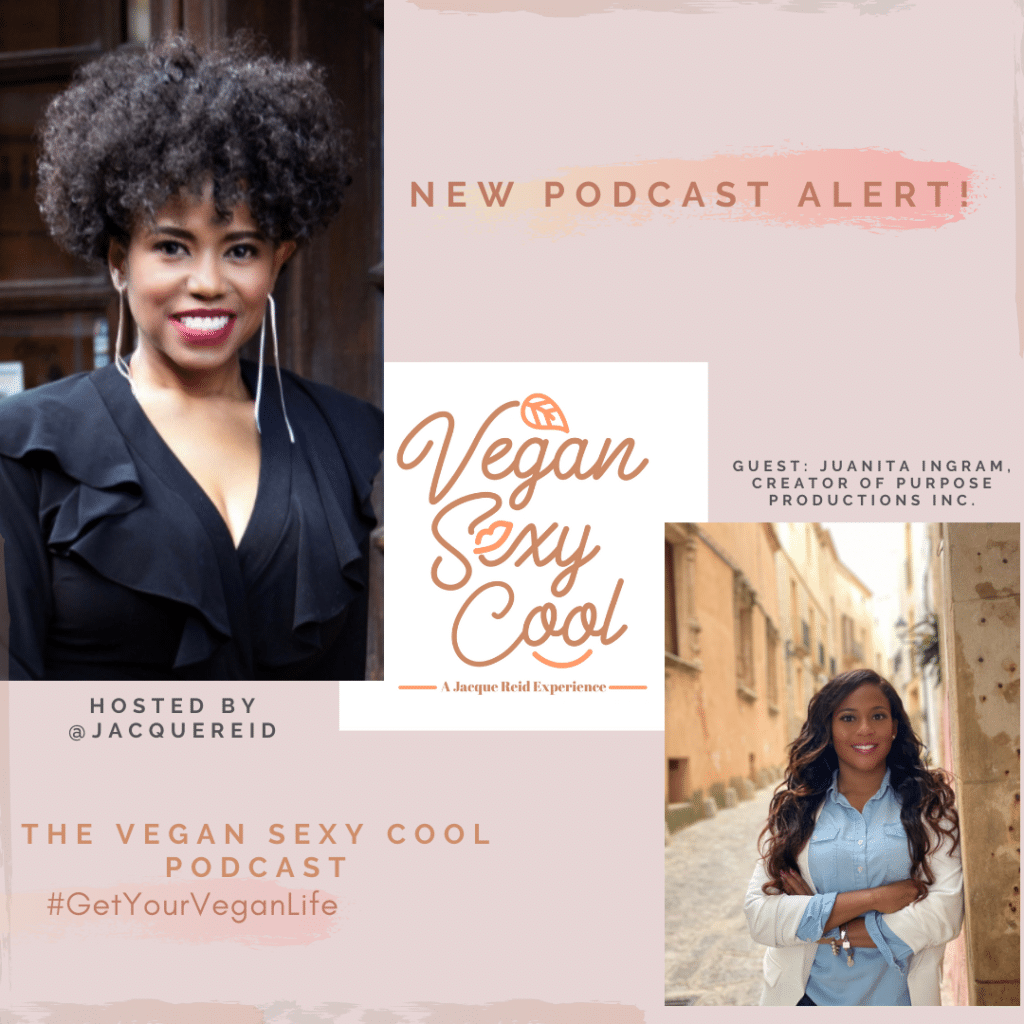 Life As A Vegan American Ex-Pat Living In Taiwan
Special Guest Juanita Ingram shares the good and the bad of being a Black American woman and Vegan, living in Taiwan.  She also discuss the serious medical issue that lead her to Veganism, and how she reveals all in her reality show on Amazon. 
Juanita's Vegan Journey (24:28 – 25:32)
"I think once you become more aware and you do the research and you read more, you come to understand the impact of your decision. We can only make an impact with one person at a time but it's a huge one. It's a huge one that we not only make for our planet and others, but for ourselves. So it was two-fold for me… I want to be a better steward of our planet, animals, people, things, of living beings, just the way that we are treating each other. I don't know- it just seems to a kind of be a systemic mind set, and that it bleeds into other areas of life when you become more conscious and sensitive to life period. And I just don't feel like I have the right to take a life for my sustainability when chickpeas have just as much protein as chicken. 
Language barrier and vegan groups (15:27 – 16:32)
"When I'm on a good roll and I haven't had cheese for months and months and months I just don't want to take a risk because my body feels so great when I am compliant. For me, it was a health thing. So what I do is I found some great Taiwan vegan groups on Facebook so they're always a great resource. There's also a language barrier to making friends. Your American friends may not always be vegan so there are a lot of groups that give great recommendations on different restaurants. I found one great spot here that is not only a restaurant but they also sale products and food and ingredients and vegan cheese that they make in the restaurant to sell."
Cooking raw vegan food (27:19 – 28:22)
"There is a wonderful chef here that taught our raw cooking class. It is unexpectedly good. It's not just eating fruits and vegetables, it is literally blending and making meals. It is the same thing as being vegan. You just don't use heat to cook, you get the real flavor of everything. Nothing is altered. We made this wonderful lasagna vegan dish. It was made with zucchini, and the meat content was made from cashews and walnuts. There was so many herbs and the tomato sauce and I did not expect it to taste good. I'll be honest it was my first time having that particular dish it was probably the best thing that I had ever put in my mouth. And I was so shocked. Everyone was so shocked."
Advice for people that want to go vegan while others in the same household prefer not to join (30:37- 32:21)
I gave myself permission to not always feel the need to cook separate meals for everybody. Meaning I would do take out vegan for me and cook for everybody else. Sometimes you have to give yourself permission because it is physically taxing to cook separate meals for everybody sometimes that serves as a barrier. You would just be like never mind. Even if you're eating a meatless meal but you're using chicken broth and you're using ingredients that you are using for everybody else or maybe you would just be like, 'I'll just eat some eggs because it is physically taxing to cook separate meals,' sometimes you're already fixing different meals for people because you have picky children. My son loves vegetables and my daughter loves fruit. They already have that separation right there so I gave myself permission in the beginning to say OK my favorite vegan restaurant delivers on Uber and I'm not going to cook separate meals. I'm going to do that. Two days a week I'll cook separate meals and three days a week for my own mental stability and because I'm tired, I'm going to give myself permission to order out for myself so that way I don't become tempted so that way I don't give in to fatigue and be tempted more so in other ingredients."
Social Media Handles:
Instagram:@iamjuanitaingram … @theexpatsshow … @purpose.productions .. @dfs_greaterlondon …@dfschattanooga
Facebook:Juanita Brown Ingram
Twitter:@expatsshow @imjuanitaingram
Website Notes:
Amazon show:
Dress For Success:
Website Link: