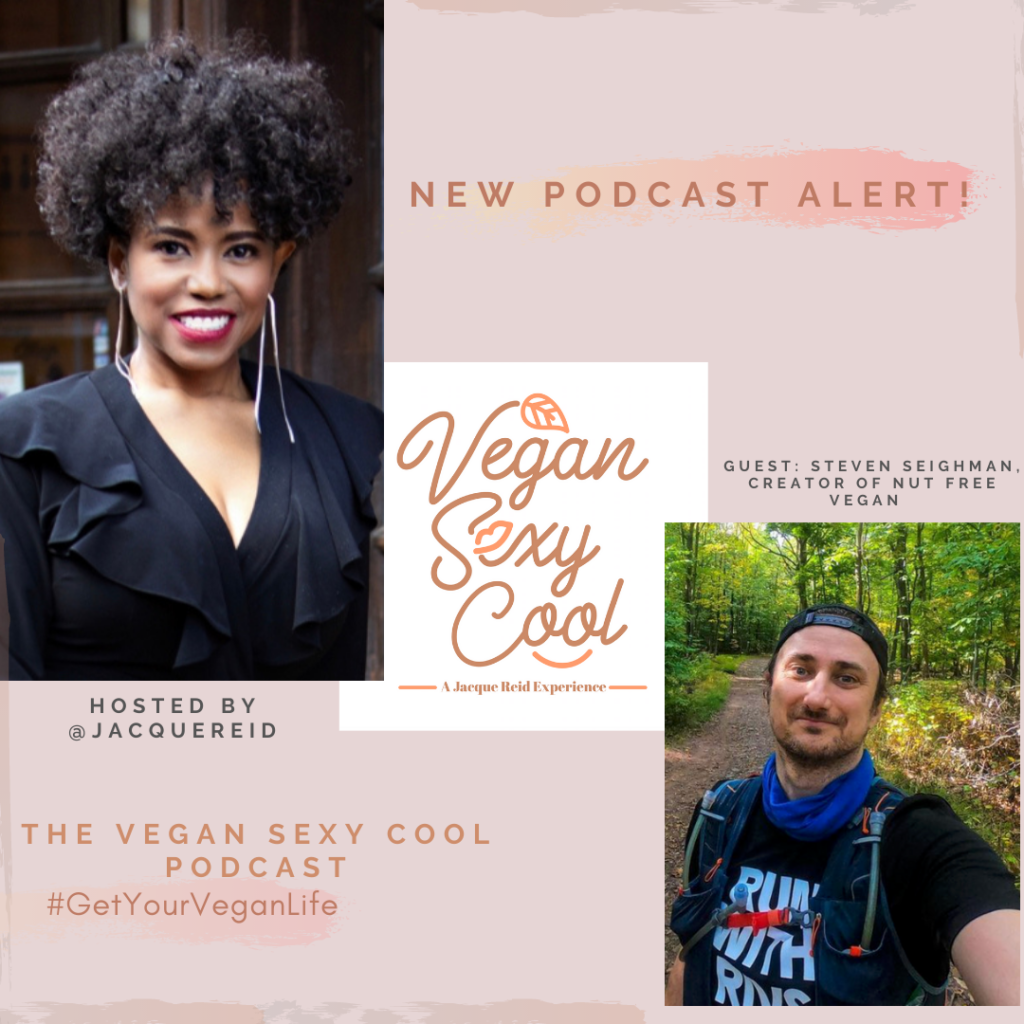 If You Have Nut Allergies, This Is The Episode For You
Nut Allergy Expert Steven Seighman gives advice on how to avoid foods with nuts no matter the place. Whether eating home cooked meals or restaurant food, Seighman breaks down how you can practice safety. Steven also talks about recreating recipes and tackling the challenges that are attached to grocery shopping. This conversation may sound familiar because I turned it into a podcast episode from an IG-live that you can find on the vegan sexy cool page.
Can't Miss Moments:
Advice on ordering food
13:39 – 14:14
Just be vigilant on the food aspect. I almost treat it like an allergy. Like I want to let them know, and I want them to understand what the ingredients are for the nuts themselves. You just need to let them know. Some people actually have such a strong reaction to nuts that they can't be in the area, and that's maybe something you want to research a little bit beforehand. I don't know for sure, but I imagine there are resources online that you can find restaurants that incorporate nuts or places to avoid, but yeah you just really need to research and be vigilant and I think.
Tackling grocery shopping and its challenges
21:33 – 22:17
Creating a list. Like I said when I started making the list of things I could have and then just researching recipes where I could use those ingredients, I found that sticking to whole foods like whole food foods, you are pretty safe, so making whole foods based recipes is probably the way to go to stay safe. And it takes research now because they're so many options, you want to find some resources that are going to let you know what you can and cannot buy…so yeah, making lists, sticking to whole foods and just researching are probably the key things I would recommend.
Speaking up about allergies
14:50-15:41
I was a very timid vegan early on. But I probably should've spoken up the most because there was more likely that there were non-vegan ingredients, but when it comes to nut allergies, it could be life and death. You can't be timid about that. You really need to speak up, so don't worry about what other people think. Lately the more I get into cooking this stuff, I think about whenever I go to a restaurant and I want to make sure that there are no non-vegan ingredients. I kind of look at it as a challenge for the chef…like maybe they would like to make something different…come up with something off the top of your head that you didn't know you wanted to make…and they're usually pretty amazing, so it's not a problem.
Cheeses
8:36 – 9:00
There are a lot of options out there. I don't make a lot of those right now. That's something I want to get into more, is making more staples. So that people don't have to go toward the process…so a lot of whole foods based options like cheese sauce and cheeses, but when I do eat things like cheese I'll do products I buy at the store.
Social Media Handles:
Websites Link:
Featured Photo: Aneta Voborilova