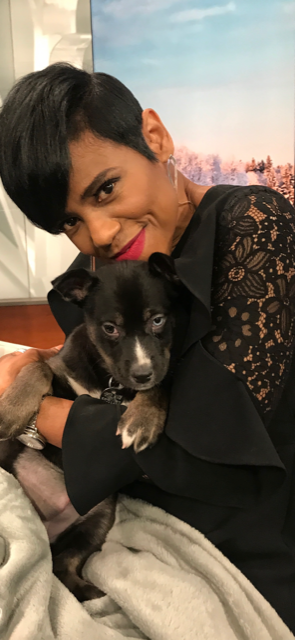 Thinking about adding a pet or two to your family?  If the answer is yes, I hope you are planning on a shelter pet.  It really is the best way to go… make a new best friend AND save life..  I should know, I adopted two pups of my own, almost ready for a third and could not be happier.
With so many folks, including countless celebrities, talking openly about adopting a shelter animal, homeless pets no longer carry the stigma they used to.  Yet there are still about six million homeless pets in shelters across the US. And due to overcrowding many will end up being euthanized.
Every year since 2015, NBC and Telemundo collaborated on their annual pet adoption extravaganza, Clear The Shelters.  On this day, animal shelters across the county drop or lower their adoption fees in an effort to find more loving animals their forever homes.  Since 2015, Clear The Shelters has found homes for use under 400,000 pets.
Compassion for animals is one of the reasons I love working for NBC. Every Thursday on my daily television shows (New York Live-NYC & The Hub Today-Boston), we feature dogs, cats, pigs, horses and other pets up for adoption.  I am pictured here on set with one of our adoptees.  We have placed more than 1000 pets and counting.
Even if you aren't ready to adopt you can help spread the word and eliminate misconceptions like these:
*Nothing but mutts-Not true, I love a mutt, but if you are looking for pure breads, with a little extra effort you can find a homeless version of the dog you are looking for.  Sadly, all types of pets are surrendered to shelters.  But that could be good news for consumers. I am a sucker for Shih tzus and there are many Shih Tzu rescue organization where you can get pure breed puppies and adults dogs.
*Mutts are sickly-Not true. There is a on going debate on which is more healthy, pure breeds or mixed.  But experts say, no matter the pedigree, it all breaks down to factors such as exercise, nutrition and environment of the dog.  And most shelters have certified veterinarians on hand to examine and treat dogs before they go home to you, so if there are health issues, you will know about it.
*Bad behavior-Not true.  Just like they myth about shelter pets being sickly, they are not all delienquents locked up for bad behavior.  Most shelter dogs are extremely loving and will blow you away with how grateful they are to be in a loving home once you select them.
Six million homeless pets is an overwhelming number.  But we can make a difference by being aware and helping to raise awareness.  I truly love all animals, but my favorite breed is Rescued.