I was recently in Miami for my birthday and a few Super Bowl festivities, and of course I had to check out some vegan eateries.
Miami is known for great food, so the vegan restaurant scene is competitive. I only had time to stop by two spots, and both were so unbelievably good, they make my list for the best vegan food ever.
L'Artisane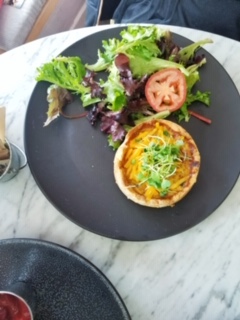 First up is L'Artisane, promoted as "The first french vegan bakery in the United States". L'Artisane is located on Collins Avenue on South Beach and opened it's doors in March of 2018. Owner Carolina Molea wanted to create food inspired by her visits to France and her training in French cuisine. The shop features a wide selection of patisserie, chocolatier and savory foods.
My boyfriend and I decided to stop by for Saturday brunch, and we arrived just after the morning rush so we were able to get prime seating… which is good because the place is small and seating is limited. But I would have eaten my food in the car. It is that good! We ordered a lot of food so we could sample a variety. Here is what we tried:
Wild Mushroom Croissant-featuring black truffles, vegan parmesan and mushroom crumble inside the lightest, buttery croissant I have ever tasted. It was my first vegan croissant.
The Baltimore Style Crab-less Burger-made of hearts of palm with a sauce that is to die for, all between an in house charcoal brioche bun. I could not believe how good this one was
Quiche Lorraine-this one really blew my mind, because I figured a really delicious vegan version of a quiche would be hard to pull off. But Carolina did the damn thing. It was heaven on a plate, with a genuine egg flavor and consistency. It was seasoned with onions, leeks, shiitake bacon and vegan cheese… and the crust was light and flaky perfection!
French Toast Croissant- listen to this… vegan cream anglaise with hazelnut streusel, fresh berries, berries compote and vanilla Chantilly. Listen to me… I never thought I could enjoy french toast with out slathering it with syrup. But I was proven wrong.
Apple Pie Croissant-It was my birthday, so I had to get this one. And it was everything I hoped it would be… buttery, flaky, filled with the perfect combination of ingredients to create the most delicious apple pie filling.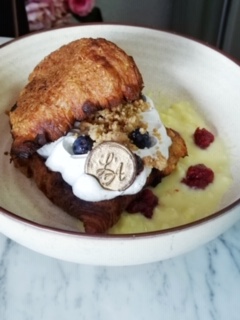 In addition to great food, the ambiance and service was spectacular. So much so we went back the next morning for more. Whether you are vegan or not, add this to your list of places to visit for your next trip to Miami.
Planta
Plante is also on South Beach and has more of a night life vibe, with a great bar and lounge like decor. But, without question, the food is the star here. The owners aim to fill the void in the market of upscale, full service, plant-based dining options and celebrate innovative cuisine without the use of animal products.
This spot has received rave reviews and rightfully so. We sat at the bar for this dinning experience and the servers were knowledgeable about the food, friendly and fun. I wish I could have ordered more, but what I did select makes me what to return to Planta as soon as possible.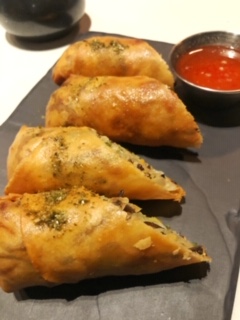 Spring Rolls-This crispy, flavorful appetizer will blow your mind. It was filled with cabbage, taro, shiitake, coriander and sweet and sour sauce for dipping, Gotta be honest here, I almost licked my plate on this one.
Steamed Dumplings-This was everything you want in a dumpling appetizer if you like your dumplings filled with deliciousness. I think there were 3 or 4 dumplings for this dish. Whatever the number it was not enough. Each was filled with spinach, shitake, truffle, soya and served with hot chili oil. To. Die. For.
Udon Noodles-For my main course, I ordered the creamy Udon Noodles. This was just a huge bowl of noodles in a creamy, mushroom sauce. For an additional cost they will top it with a generous portion of shaved black truffle. I did that and it was so worth it.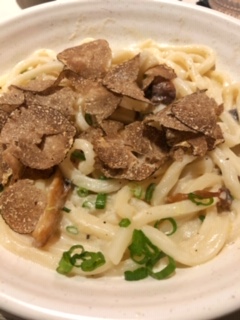 Again, vegan or not, if you like delicious food, you will not be disappointed by the offerings of either of these Miami restaurants. Try what I ordered, or make it your own.. either way let me know what you think if you have a chance to stop by.