Podcast – Season 2 Episode 7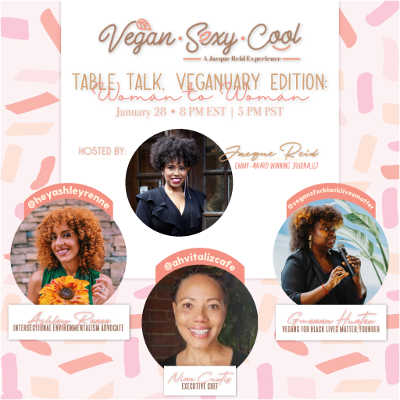 In this episode, we celebrate the first anniversary of The Vegan Sexy Cool Podcast with a live conversation with part of my squad. Executive Chef Nina Curtis, Vegan Influencer Ashley Renee, and Vegan Activist Gwenna Hunter join me to talk sex, food, activism and more.
This episode is a bit non-traditional. That's because we just celebrated the first anniversary of the Vegan Sexy Cool podcast. Special guests, Executive Chef Nina Curtis, Vegan Influencer Ashley Renne, and Vegan Activist Gwenna Hunter join us in our live virtual Table Talk event to discuss a number of hot topics. We talk about veganism as it relates to nutrition, politics, food and so much more.
Can't Miss Moments:
ASHLEY NOW USES HER PLATFORM TO EDUCATES OTHERS ON VEGANISM
20:27 – 20:57
"Being that I do have a platform, I do try to use it to spread that education, to spread that knowledge so that, you know, I can help educate people on why being vegan is a good thing, how it helps animals, how it helps your health, how it helps the environment, because I still think there's a lot of people who don't understand how all of those things are connected. And I feel like the more people kind of get that in their heads, the more they start to understand, and they start to get more curious about going vegan. But I was very shy about it at first."
ASHLEY ON VEGAN PEDIATRICIANS
37:04 – 37:29
"Of course, you know, there are always going to be concerns about nutrition. But, there are ways around it just like as an adult, you know, we supplement, Right? If we feel like we are not getting enough vitamin D, or B12, or iodine. And, that's the same thing, you know, with children. You find ways to supplement in areas where you feel like maybe they're not getting adequate nutrition. So there's definitely ways around that."
NINA SPEAKS ON AFRICAN AMERICANS AND VEGANISM
42:22 – 41:53
"Mucus is going to cause all kinds of problems. As African-Americans, we are less efficient in breaking down, you know, dairy type products. We are lactose intolerant. So, it keeps coming back to a lack of education, what marketing, and the impressions we constantly see throughout just our social media, all these impressions that get out there. So when you come back to nutrition, nutrition is nutrition."
GWENNA SAYS OPPRESSION IS NOT JUST WITHIN POLICE AND POLITICS, IT'S WITHIN THE FOOD SYSTEM.
44:25 – 44:54
"Well, definitely yes. First of all, but in a way because, like there's a saying, 'he that controls the food, controls the planet.' And, we kind of know how that's going with all the genetically modified foods and these… corporations that are, you know, creating these 'Frankenfoods,' that, you know, we're consuming. And, they're putting all these restaurants in the black communities, But these restaurants don't give back, and things like that.
NINA TALKS ABOUT THE ENDLESS FOOD OPTIONS IN THE VEGAN WORLD!
54:16 – 54:41
"The thing I love most is that, people think a vegan diet is so restrictive where you can't eat everything that's available to you, you know, if you like oatmeal you can have oatmeal every morning with a different form of topping, and a different type of milk, a cashew milk, an almond milk and oat milk, I mean, a macadamia milk, it's endless."
Social Media Handles:
Gwenna Hunter
Ashley Renne
Nina Curtis
Websites, Links:
Gwenna Hunter: Mercy for Animals
Ashley Renne: Travel Lushes
Nina Curtis: Vitaliz Cafe Live Well Be Well – Starter Guide