Angela Davis
As a long time journalist, I've never had the opportunity to interview legendary activist, author and scholar Angela Davis, but today I put in the request.  Her long standing views on veganism, animal rights and it's connection to human rights are among the many things I am excited to discuss with her. 
With a controversial past, that includes almost a year in prison on charges that were eventually dismissed, Davis is a rockstar among activist. She is known for being an outspoken, radical advocate for civil and human rights, as far back as the 1960s. In addition to starting her own activist organizations, she was also associated with the Black Panthers and communism. She has also written at least 10 books and given countless speeches on abolishing the prison system, Palestinian rights, systemic racism, women's rights and more. But you rarely hear about her long standing association with animal rights.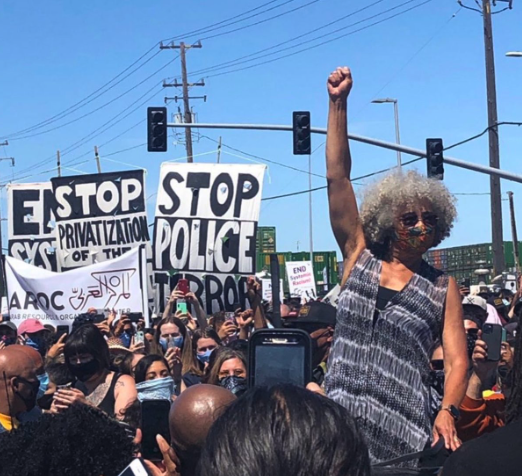 Honestly, I had no idea she was a vegan until I became one myself and began researching other Black vegans. What I found was that many Black vegans, like Davis and the late Dick Gregory and award winning filmmaker Ava Duvernay are also activist… who make the connection between animal rights and human rights, or the connection between food justice and civil rights, or the connection between environmental racism and systemic racism.
In a 2012 interview with Grace Lee Boggs, Davis talks about why activists for justice and equality need to rethink their participation in capitalism with what they put in their mouths. She goes on to question how we can work for more compassionate relationshipss with other people and not see the need to fight for more compassionate relationships with the other creatures we share this planet with. You can listen to a part of the interview in the short video below:
And in this interview earlier this year with Frank Barat, she explains that you don't have to commit yourself to veganism to participate in advocating against animal suffering. Here is a short excerpt from that interview in the video below:
There is much I want to discuss with this incredible woman. I hope my request for an interview is granted. I will keep you posted. Meanwhile, please let me know your thoughts on any and all of this. Were you surprised like me to learn the Davis is a vegan and animal rights activist? Feel free to leave a comment.