First, let's clear up any confusion. There are some people who think fish is Vegan. It is not. So if you want to eat Vegan, you do have to give up seafood. Not to worry. You can still enjoy seafood flavors while eating Vegan.
I get it. I love seafood. In fact, on my journey to Veganism… I was a pescatarian. So, I ate seafood, but gave up chicken, beef, and pork. I was also still eating dairy. But then, I realized that just like whales, frogs, turtles, dolphins, seals, manatee… all sea and freshwater animals have souls and a desire to live. Despite my love for the flavor, I did not want sea animals to lose their life, for me to satisfy my taste buds.
The good news is that there are plenty of food options available to feed my cravings for seafood flavors. Let me share some of what I have learned along the way.
COOKING AT HOME: Duplicating the Flavor
Two things make us excited about eating seafood… the slight or strong fishy flavor, and the texture. Even if you cook regularly, you may have no idea how to mimic either. I do. If you really know your way around the kitchen, then there are several ingredients at your disposal to create fresh catch flavor. But for those of us that are new to this particular style of cooking, here are some basics to begin with when it comes to flavor.
Seaweed-Nori, Kelp or Dulse flakes
Nori seaweed is what is typically used to wrap sushi rolls. For other dishes, they are torn into smaller pieces, added to recipes. The Kelp or Dulse flakes are basically dried seaweed. They are often used as a salt substitute, but are a great way to add some fishy flavor. And, BONUS, seaweed gives your food added nutrients.
Vegan fish sauce
Much like vegetable broth, Vegan fish sauce is going to give you the flavor of a fish sauce, without fish as an ingredient. Seaweed is typically used in this sauce.
Old Bay Seasoning
Old Bay is used in so many of our favorite seafood dishes, it just reminds us of seafood. But it is an all Vegan mix of spices. Celery salt is the main ingredient. It will definitely come in handy for making your plant based dishes reminiscent of your seafood favorites.
COOKING AT HOME: Duplicating the Texture
Oyster, Trumpet mushrooms (calamari, scallops)
Listen to me… I have had both mushroom calamari and scallops and texture comparisons are crazy!!! I mean just spot on. And mushrooms are so nutritious, once you track down the right recipe… you may never ever go back to eating animal versions of these dishes.
Hearts of palm (lobster, crab)
The first time I had a "lobster" roll made from hearts of palm, my mind was blown. It is one of my favorite recipes from Purple Carrot and I will link the recipe below, because if you love a lobster roll, you will love this. Hearts of palm is a vegetable that comes from the core of certain palm trees. They are usually found canned in water at grocery stores. And the texture actually mimics lobster or crab meat. Add some Vegan butter and Old Bay and you got yourself a party.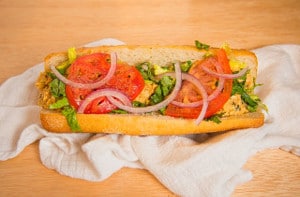 Chickpeas (tuna)
You need to try it to believe it. I remember ordering my first Vegan tuna salad sandwich from LUHV Vegan Deli in Philly. I was so excited because the texture and flavor were just spot on. I have never tried to make this type of tuna at home, but there are countless recipes out there on the internet and in Vegan cookbooks. Once you make the basics, you can add your own spin to make it taste like the type of tuna salad you like.
Tofu (fish, shrimp)
I have never tried to make seafood out of tofu before, but I have had Vegan fried fish and fried shrimp at restaurants and it's really close to the real thing. Again there are so many recipes on how to easily manipulate tofu to the texture of fish or shrimp and then you can add the necessary ingredients to achieve the desired dish.
VEGAN SEAFOOD PRODUCTS
Vegan seafood products are a booming business. There is canned Vegan tuna, Vegan shrimp, Vegan fish sticks, and more. And if it does not exist… just wait. These items may be tough to find at most grocery stores, but in an earlier post, I shared details on GTFO It's Vegan, which is one of the best sources for Vegan groceries. And they promise 2 day delivery to most locations.
RESTAURANTS
I have not had the opportunity to eat at many Vegan restaurants outside of New York and New Jersey, but I would advise you to check out some Vegan seafood dishes from the professionals out there working hard to perfect it. Here are some of my favorites:
Fried Fish and Grits
Greedi Vegan (Brooklyn)
Calamari
Blossom (NYC, West Side *not always on the menu)
Scallops in Pasta, Crab Cakes
Willow Vegan Bistro (NYC)
RECIPES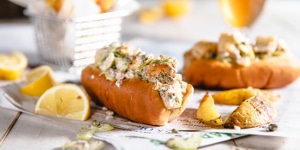 If you want to give a Vegan seafood dish a try, I recommend the lobster roll from Purple Carrot. Here is the recipe. Pro tip from me… track down the right Vegan roll and toast and butter that roll. Also, make extra and enjoy.
Recent Post – Eat Good