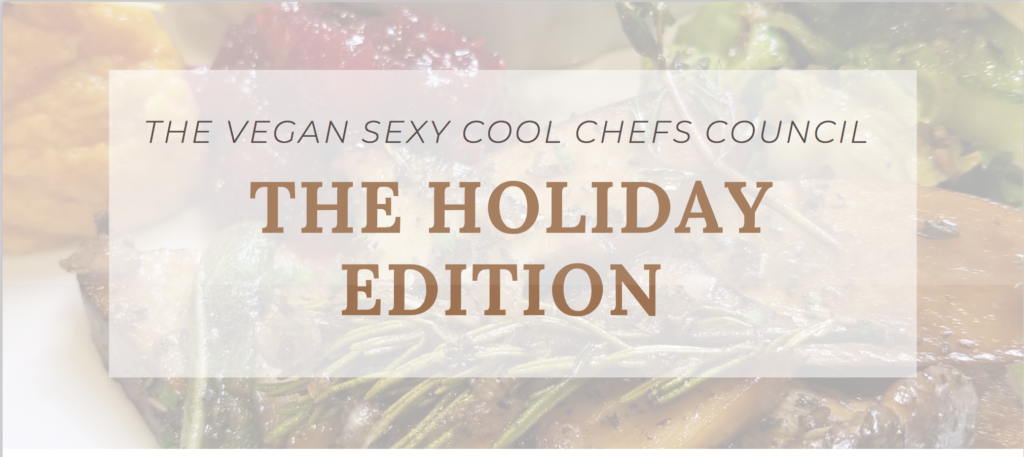 I loving finding new recipes and inspiration, so I am always looking on line, as well as magazines and cookbooks. But what I discovered was that recipes from Black Vegan chefs were not always easy to find. So I wanted to change that by highlighting many of them and their delicious work. To do that I created The Vegan Sexy Cool Chefs Council. We are officially kicking things off on November 1st for World Vegan Month, which is also know as Vovember.
Recipes:
Each day in November, we will feature a new holiday recipe from one of the chefs. Whether you plan on cooking only Vegan for one or all of your holiday gathers, or if you want some ideas for Vegan family or friends… we've got you covered. Each recipe post will have detailed ingredients and easy to follow instructions to help you pull it off at home. In addition to their fabulous recipes, you will also get a brief bio on each chef and details on how you can find more of their work.
IG Live:
Every Monday, I'll be on my @vegansexycool IG Live interviewing one of the Vegan chefs about their culinary history, their featured recipes and more.
Please let me know if you plan to test out any of the recipes, and follow our chefs for their endless vegan dishes.